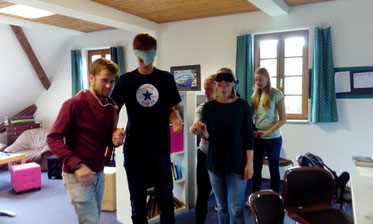 Hey readers, 
I am Hannah, the only German girl in this year's MDT cohort. At 18 I am the baby of the group. I love being active, and have lots of energy and stamina. Having just finished my Ausbildung [Apprenticeship] as a Biology Technical Assistant, I wanted to spend a year with and for God, uncovering what He has planned for my life. 
Blind Trust Activity
This week, like every week, began with Sing and Pray. In the afternoon we had an Intercultural Training Seminar, a relevant topic since we are an International Team. We discussed strategies to create an effective intercultural team. A key teaching element was, "Building trust", immediately therafter we put the theory to the test. In teams of two, one person blindfolded and their partner guiding them, we walked through an obstacle course. It was a literal example of blind faith. 
Every week Justine and I volunteer at the Johannes-Diakonie's Senior Center. The Johannes-Diakonie serves people with disabilities and is a community within Mosbach. The first time there was not easy, we didn't know what we should or should not, could or could not do - the regular first time jitters. I tend to do things fast, fast,fast. While at Johannes-Diakonnie I realised how much patience I needed as the pace was slower. 
Artwork from Seniors
The second time at the Johannes-Diakonnie was much better. We had a sense of what to do and the Seniors were already comfortable with us. I was touched that they remembered me. On the second visit the group came up with activities they wanted to do. We played board games such as Yatzee and Trouble. Some of them loved to draw or colour and would gift us their artwork. There is a real sense of community. When anyone is missing, everyone immediately asks about them. It's sweet to witness these friendships, which in some ways are better than my own. They don't compare themselves to each other. They don't think about who is more talented or better looking. Everyone is themselves and everyone is accepted the way they are. 
Well the weekend is almost here and I'm not sure what I will do. It will probably be a mix of relaxing, reflecting, sleeping, reading and waiting for whatever comes next. 
Much love from Mosbach, 
HANNAH