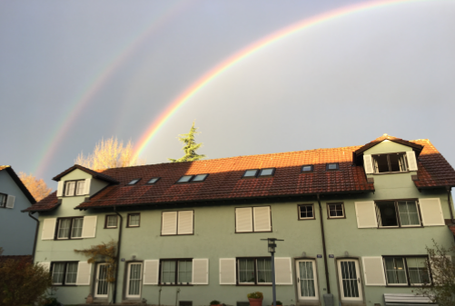 God hears our prayers! Don't believe it?  Then read this!
Rebecka and I, Hannah, are the team stationed in Zürich and we are working with one of OM's projects called Hope for Zürich. The team operates with a local church and one of the things they do together is "Coffee & Deeds". That is a café where people can come and drink coffee or eat a Gipfeli - Gipfeli is the Swiss word for Croissant. The café is a place where people can meet each other and get help in every life situation. There is an opportunity to receive personal prayer and you can always find an open ear.
I really appreciate the friendly atmosphere in the Café and the interior design. It's very modern and cosy. One other thing I find nice is that there are drinks for children. They can get a coffee called "baby chino", the short form of cappuccino. They get a small cup some foamed milk.
At Wednesday we had the chance to take part of the small group, which the parents of our guest family are responsible for. At the end of the meeting we prayed in groups. In the prayer groups we prayed for the youngest boy, with 11 months. He screams a lot during the nights and wakes up very often. So we prayed that the mother and the son would be able to sleep better than the past few weeks of screaming. The morning after, the father told us, during breakfast that the boy had slept through the entire night!! It's such a great feeling to see that god hears us and not only that, he also acts.
We, Team Zürich, live with a host Family  for the six weeks we're here. The Family has two small boys; the oldest one is 2 years old and the youngest 11 months. I love children and it's very nice to live in the same house as them because then we get to experience everyday life with two little kids.
Ciao zäma!  (Goodbye everybody!)