____________________________________________________________________________________________________________________________
"...it's often in these moments that precious and personal conversations arise."
____________________________________________________________________________________________________________________________

Hello everyone,
I am writing from my first placement in Hamburg.Wihelmsburg. A quick word about me. I am 19 years old, I come from the north of Germany, I really like playing worship music, love asking challenging questions and enjoy going on holiday in the Alps. Just like the girls, Hendrik and I have been on our first placment since the end of October . it is in Hamburg, in a district called Wilhelmsburg. Here we are part of the Lichtinsel (Light Island) team, a team who wants to bring Jesus light into this socially disadvantaged area. Wihelmsburg is the biggest distict of Hamburg and is very multicultural, which in itself poses challenges. There is lots of poverty and crime here. 
While Hendrik works at the Food Bank, I am doing a lot with refugees from the Middle East. We do language exchanges in our mother tongues, German and Arabic, and I play with the children. Building relationships isn't easy as we are only here for seven weeks. Despite this I am trying to make the most of my time here. In any case there are certainly a lot of new experiences to be had, especially for someone like me who comes from a traditional middle-class background.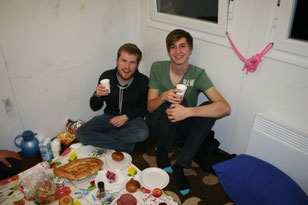 I am always so positively surprised by the hospitality that you often are greeted with from the refugee families. I'm often invited in for a cup of tea and something to eat, which I've come to appreciate because it's often in these moments that precious and personal conversations arise. I love that you can make a difference in this work just by bringing some sort of activity into an often boring daily routine. Bringing them into contact with the German language and culture, showing interest in the people themselves means a lot to them.
For me mission doesn't always have to mean that you lay out the  gospel straight away. I am experiencing just how valuable it is to be the gospel in what you say and do, in the same way Jesus would have done. That is also a witness of God's love for the people around us. 
---
---
---
---
---