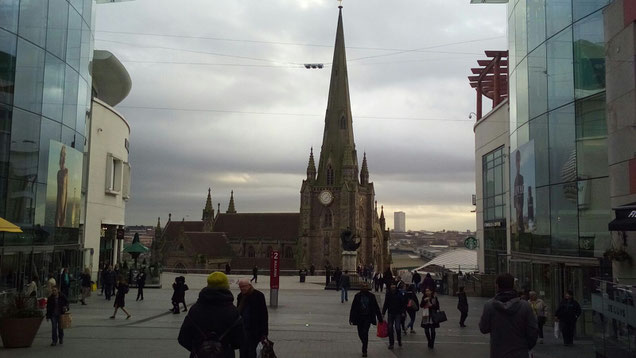 Dear world,
I made it to my 3rd country as part of the MDT. We, 5 MDT-lers and I, spent 2 weeks on the streets of Birmingham, England, meeting strangers, hearing their stories and sharing our own. We became a pop-up church. We performed songs and dramas, shared books and content wherever we could.
Our first pop-up event was in an outdoor mall. There was a store clerk who I instantly hit it off with. Our eyes made four and conversation flowed naturally. I shared about how I got to Germany and why I was doing a Missions Disciple Training program. He had no reference point for an organization like OM so I told him that OM was a Christian missionary travel agency, connecting christians to work across the globe.
Then came day 2. I did not feel like talking and the afternoon devouring short stories. Between stories I noticed a man standing on the periphery, looking like he was waiting for someone to come and talk to him. I can't explain how I knew that. Call it divine wisdom. I asked one of our team members to go and talk to this fella and then went back to reading the magazine
In our debriefing session that day my team member, Shamus, shared the conversation he had with my friend on the periphery. In their convo the fella mentioned to Shamus that he played the banjo. That launched them into a conversation about Irish folk music and a band in which the lead singer overdosed while in the prime of his career.
Shamus pointed out that even when people seemingly have it all there is still something missing. He then asked the fella if something was missing in his life. Shamus opened up to him how he once felt a hole in his life and how faith in Jesus Christ filled it.
Why am I sharing this story? After all, I look like a bad missionary who preferred a magazine to the gospel. Yet I am proud of that day and grateful for what it taught me:
i.                It's not about reaching everyone. My focus is on reaching those that God has for me. Shamus was the only Irish member of our team and the only one who knew anything about folk music. In short, he was the only one able to have that conversation. My role was to see the guy on the periphery, not to speak with him.
ii.              My eyes need to be open. So many people yearn for these conversations and have questions but no answers. I want to recognize those who are seeking whenever they cross my path
.
Not a  preacher just a learner,
 Your Justine